Switch to Pinterest for Business
Pin Consistently but not crazy
Do you binge-pin like me? Some days I pin 200 things, other times I go weeks without logging in - but my followers don't have to know that. By using Buffer to SCHEDULE your pins rather than pinning like crazy, you can spread that Pinterest-juice around and keep your name at the top of feeds. This is how you'll gain more followers - not pinning 10,000 in one night. Schedule, schedule, schedule.
Follow others in your niche
Humans are selfish people. If you're following zero people, no one will want to follow you. We all secretly hope the people we follow will follow us back at some point. Plus following others will give you more content to pin and more people to pin your content. It's a win-win. Start checking the social media on blogs you read, follow people who pin similar stuff. Follow boards that you really love, follow trends you want to keep up on. Following people is one of the fastest ways to grow your numbers.
Optimize your profile
Add a photo of yourself that everyone will recognize. (I recommend using the same one across all your platforms). Tell people what you do and who you are in your bio and include some keywords. If you're a food blogger, you should mention "food blogger" somewhere in your bio. Also add your URL and confirm it! This is super important for SEO and looking like a pro. There's a walk-through on how to do this here.
Show your "branded" boards first
Let's use the food blogger example again. If you're a food blogger, your first 5 boards should be something like "Deserts to try", "Crockpot Recipes", "Kitchen Tools", "Healthy Snack Ideas" and "Kid-Friendly Food". Your first 5-10 boards will be the first ones your followers (or potential followers) see, make sure it showcases what you're all about.
Also, make sure these boards have at least 50 pins, and all the links work. These boards will be the first impressions from others - having great content on them is important!
Brand Your Board Covers
You don't need to have perfectly matching board covers to have a cohesive feel, but it's important that your covers make visitors want to follow.
Need more ideas?
Here are some great blog posts about Pinterest that will help you grow your following:
Find the best times to post
No fancy tools here, Facebook pages have their own analytics built right in. Just go to your page, and click on the "Insights" tab on the top. This will help you see everything going on. If you click on the "posts" tab on the left side, you'll see a breakdown of what times your followers are most active.
Grow your following
Stay Active - no one wants to follow a page that hasn't posted in 2 months. Post regularly just like any other social media channel.
Mention + Link to your page - if you don't tell people you have a page, no one will find you. Add it to your "jobs" in your personal profile as well.
Join facebook groups - I love Savvy Business Owners , Being Boss, The NCC and GoIndepedent - stay active in the groups, answer + ask questions and introduce yourself
I'll be honest
Facebook is NOT my expertise. I stick with Instagram and Twitter as my main hubs, so I wanted to make sure you're getting the best advice possible, that's why I'll link to some amazing blog posts that can guide you through the tech stuff.
How to Get More Facebook Likes For Free
How do I get noticed on Facebook?
Use Hashtags
There are many hashtags like #FollowForFollow or #FollowTrain that will only get you spammed and followed by inactive accounts. Don't use those! Pick 10-15 hashtags to use regularly and rotate through 2-4 of them on each post.
First, make a few hashtags for yourself. I use #NoraConrad and #ConradU - they can be your blog name or something more clever, just make sure you use it on anything relating to YOUR business.
I would list a bunch of hashtag ideas for you to use, but Sarah at Venus trapped in Mars already made the perfect post. I refer to this all the time, so check it out.
Post at the best time
Use the free tool, Iconosquare , to find the best times and days to post on your account. Everyone will vary so check it out for yourself to get the best results. Once you've logged in with Instagram click here and take a look at your chart. Here's what mine looked like: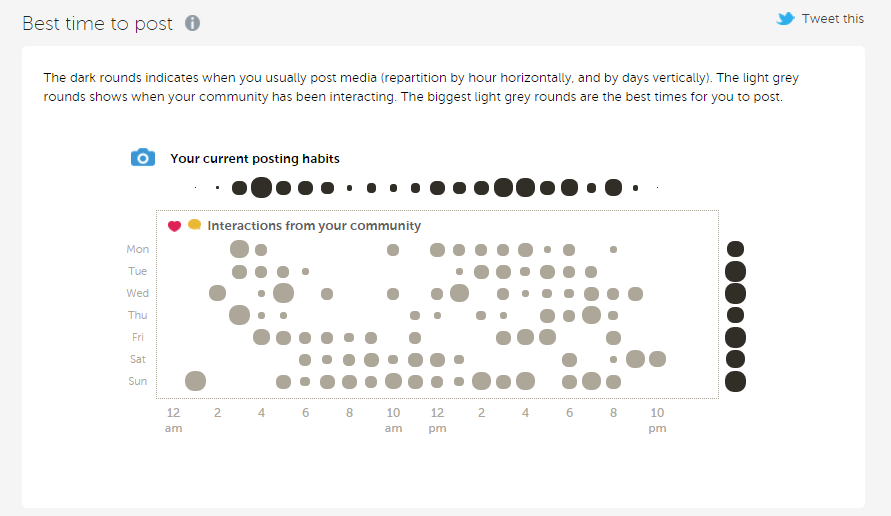 Grow your following
Bec from Bloggers Bazaar has five great tips for this one:
Contribute to someone else's hashtag – Join in and take part in a challenge such as those listed above. This a a great way to connect with others on Instagram and to get your images seen by others who may love your style and start to follow you.
Interact – Don't just have a one-way mentality when it comes to Instagram, get out there among the feed and comment, and like other people's images. Truly connecting with others will make them interested in what you are sharing too.
RSVP – translation: "Respond Please". Has someone left a comment for you? Don't leave it unanswered. Take a moment to let that person know you appreciate the time they took to comment. This will help keep your followers loyal.
Be Consistent – Post images regularly, at least 1-2 times a day, and keep to your brand's visual story and your strategy and people will start to take notice.
Be Patient – You probably don't want to hear it, but it simply does take time for people to find you, follow you, tell others about you and for your following to increase. It's just the way it is.
Consider how you edit your photos + your caption
Light, textured and blue hued photos get the most likes (statistically). Every photo you post should have a reason and a great description. Captions with more than 200 characters get 35% more activity than photos with less than 100 characters.
Every photo tells a story, so don't be afraid to share that in the caption as well.